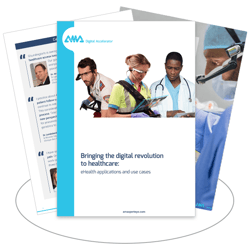 Health is more than ever a common concern for everyone. The use of digital solutions will facilitate access to health care delivery throughout the world.
Discover the full potential of eHealth through concrete applications and use cases, illustrated by testimonials of healthcare professionals.
Explore affordable, state-of-the-art solutions for:
Telemedicine
Teleconsulting & telementoring
Emergency services
Healthcare training
About AMA
With nearly a decade of proven experience in remote assistance solutions, AMA is helping medical institutions and industrial organizations of all sizes accelerate their smart workplace transformation. Our market-leading XpertEye Assisted Reality platform has been deployed in more than 100 countries, addressing a wide range of applications like remote diagnostics, inspection, scheduling, and workflow management. These unequaled remote interactive collaboration solutions empower our customers to improve productivity, speed up resolution time, and maximize uptime. Our presence worldwide – with offices in France, Germany, Romania, UK, USA, Hong Kong, and China - allows us to work in every time zone and reach our customers wherever they are.